Single Hay Bale Spear for Wheel Loaders
The Dymax Single Hay Bale Spear features a 44in long replaceable spear with two stabilizer spears.  Designed for long life and durability this spear is excellent for handling large round hay bales with small to medium sized wheel loaders.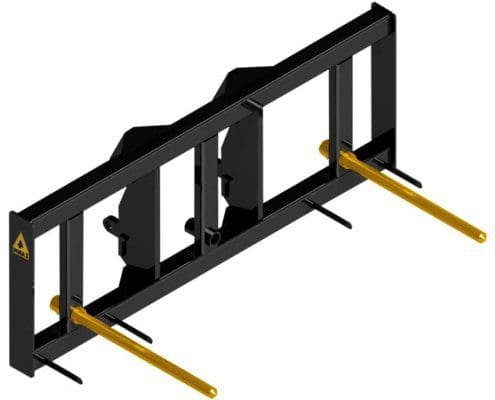 1
2.50″ high strength replaceable spears
2
Center pocket for adding a 3rd spear. Center spear not provided.
3
Made to fit your wheel loader coupler system
Double Hay Bale Spear for Wheel Loaders
The Dymax Twin (Dual) Hay Bale Spear enables operators to efficiently handle large round hay bales side by side.  Available for fitting medium sized wheel loaders.  A 2.50″ diameter spear provides long service life and each model comes equipped with a center spear mount.
Big Bale Handler for Large Rectangular Hay Bales – Wheel Loader
The Dymax Big Bale Handler for rectangular hay bales features (4x) four heavy duty replaceable spears with total load capacity of 5 tons.  Each model features a tall backrest approximately 96 inches tall and can be equipped with quick coupler hooks to match your loader.  
Cotton Bale Spear for Wheel Loaders
Dymax makes many spears for handling special materials.  The Cotton Bale Spear features 4 replaceable high strength spears making these spears excellent for handling cotton bales.